Time to Boar Hunt, two monster boars had been terrorizing Bear Mountain for the past couple of years.That is, until these two young men came along and were transformed into Hunting Heroes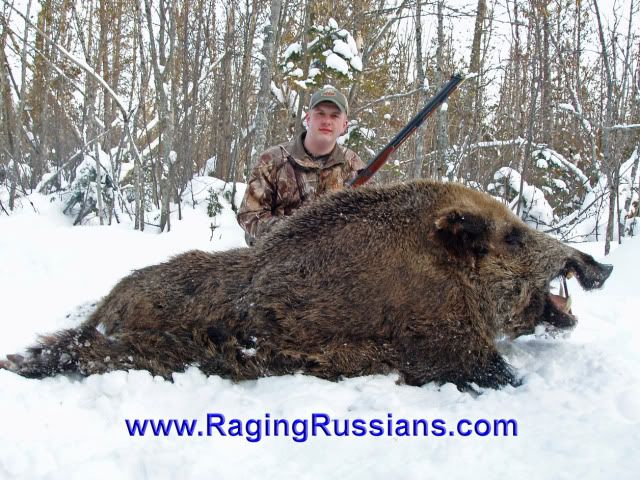 What started out as an ordinary boar hunt with traditional muzzle loaders for "Party" Pigs transformed into mortal combat with the "Alpha" Beast.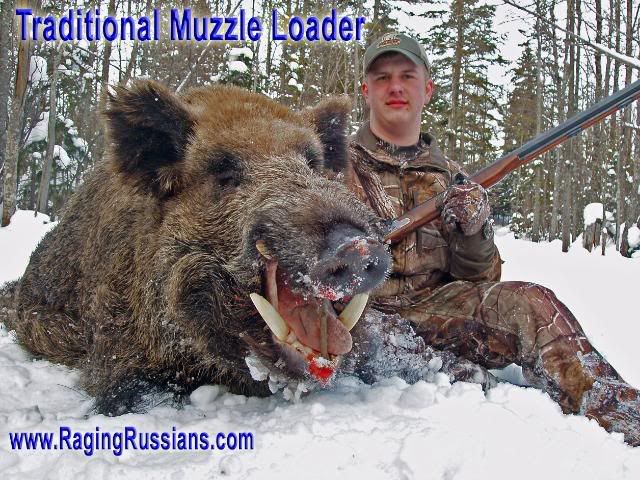 It was Wednesday, December 30th, and the year was rolling to an end. It was high time to harvest a couple of Picnic Pigs for the New Years Eve Party. But this prehistoric "Pork Chop" jumped out of the snow and charged us with its lightning fast, slashing tusks!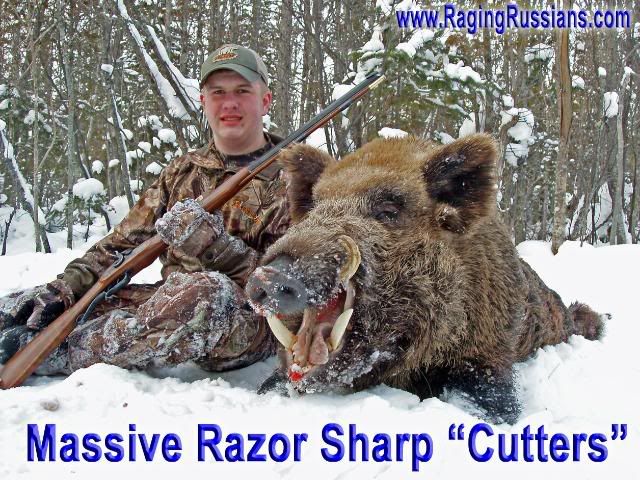 Trust me, this is not your typical everyday Boar Hunt for a  Picnic Pig.  This is a genuine boar, one of the Giant Beasts of the North
You'll know the real Wild Boar when you see them.
Herd Boars are the "Alpha" Beast and they rule supreme. Same Old Story – Hunting a nice, plump Party Pig and POW! This bad boy charges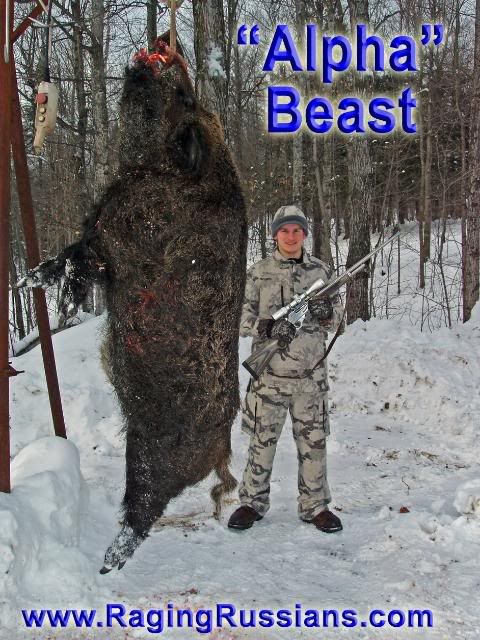 These hunters are both graduates of Bear Mountain's Annual Big Game Hunting Camp When hunting Wild boar, no matter how skilled you are, there is always an element of danger.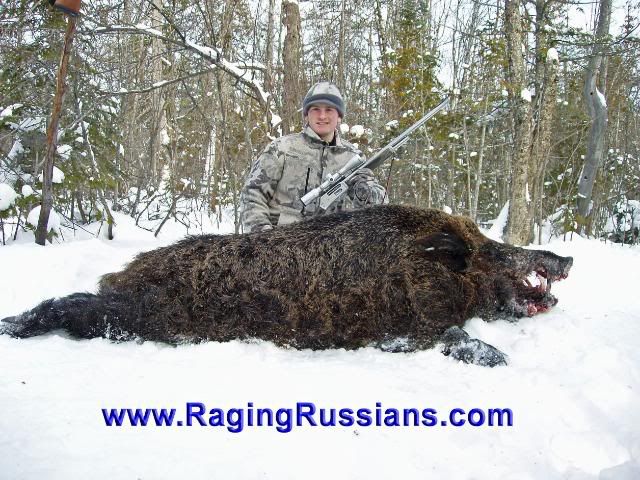 Remember it's recommended to bring backup rifles and your trusted friends and allies.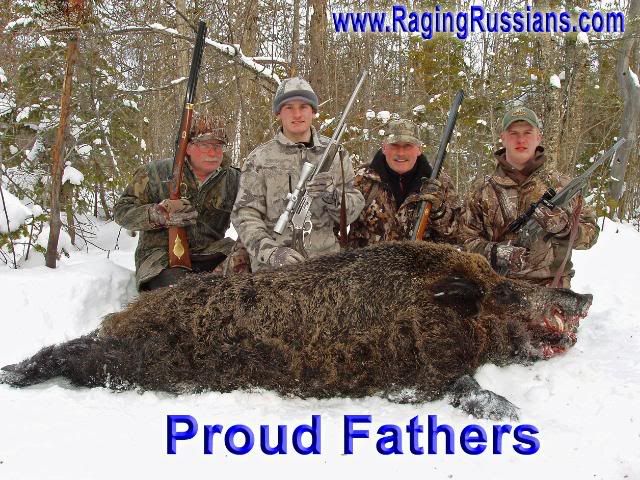 "Hunting Teams" are great! Bring your blood brothers. You will be glad you did Okay now, who is having the most FUN?
Winter hunts are spectacular!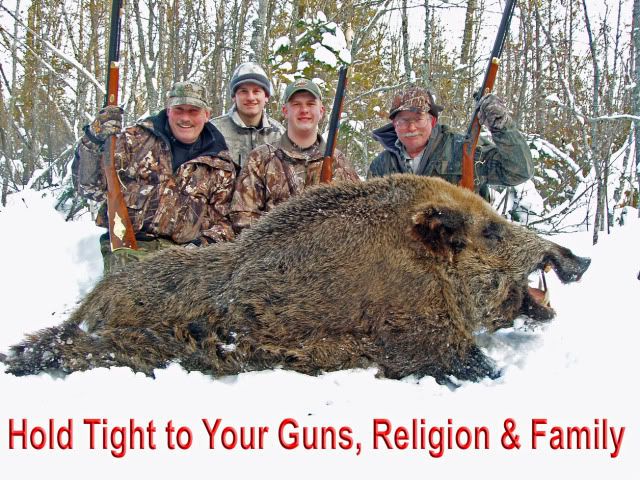 Lloyd was successful at hunting down a Nice Plump "Party Pig"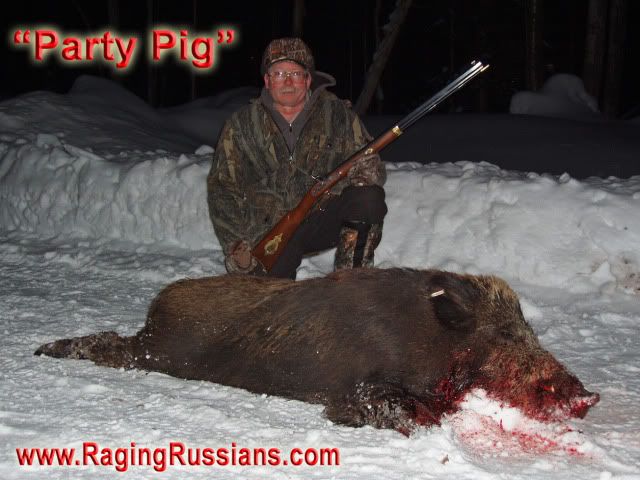 Moose Man, Greg Johnson is back at the lodge so you can arrange a Boar Hunt for 2014.
If you are considering hunting Genuine boar, Bear Mountain is the place for you!
Click Here to See the Special "Red Hot" Hunt Package   ______________________________________________________________________________
A thought for the New Year If you had a tough year in 2016, there is no better way to take back control than to hunt the Giant Beasts®. Spend your money on your traditional values and beliefs! Here is what it will do for You: Out on the snow pack in the White Wilderness you will face a Savage Beast unlike any you have known before and when you return to civilization… You will experience a new life as you are transformed by the trials & tribulations of the Great Northern Forest. All of the stress of the past year will melt away and you will be find an inner focus with a confidence that moves you and those around you to do great things. This will be a subtle change for some and a most dramatic change for others. ______________________________________________________________________________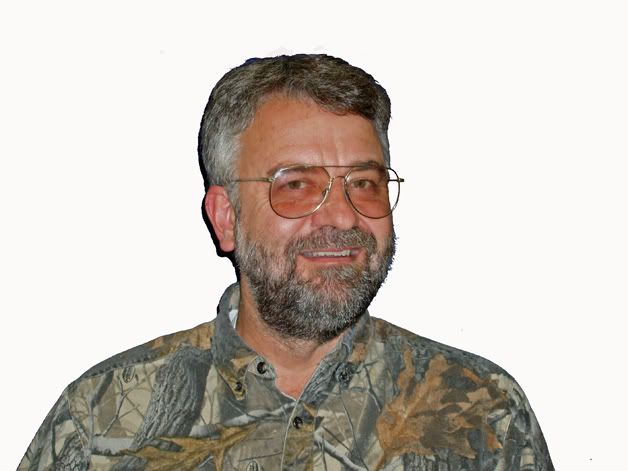 Gregory A. Johnson -Moose Man
Bear Mountain LLC
324 Co. Rd.
480
Negaunee, MI 49866