Pigs are Pigs – but Not all Pigs are Equal
A Boar Built for Battle!
In the past, to pursue real Boar, you had to leave the United States and travel to the old Soviet Union or some other 3rd world nation to find an Authentic Boar Hunting Adventure.
The natural environment in Lake Superior Country allows for a setting that is similar to Europe.
---
Hello, my name is Greg Johnson, but my friends call me "Moose Man". I was a Geological Engineer in a previous life and had the opportunity to design and build millions & millions of dollars worth of projects around the globe. At the age of 45 I determined it was my turn to design and build a project of my own making. I set forth to build Bear Mountain LLC, an Authentic  Boar Hunting Adventure in the Great Northern Forest.
The habitat and climate at Bear Mountain is spectacular and you will not find anything remotely close to this extraordinary environment any where else in the country.
Unlike other hunting estates in the U.S. the Boars you will encounter are the real deal and are not feral hogs. These are the prehistoric pigs that date back to the dawn of time.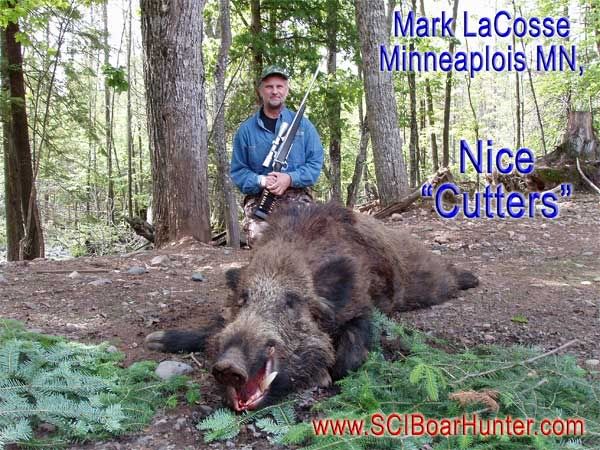 "Pigs are Pigs But Not all Pigs are Equal
---
You will not  find these pigs running loose. They are definitely not feral pigs.
Don't be confused by the term feral hogs. Those are just domestic pigs that have escaped from captivity and are living in the wild (fugitives on the loose). You won't find feral pigs, or cross breeds between feral and domestic pigs at Bear Mountain.
Historically the Spanish & the English have turned domestic pigs loose all around the globe… and there are feral pig populations running loose in the United States.
These feral pigs are basically barnyard and pasture pigs running free on the hillsides and are not really Boars, but rather they are hogs, domestic pigs that are free ranging.
"Only a Limited Number of Pure Bred Boars
reach "Alpha" Status"
---
Just because any pig can grow some hair – Don't be fooled into thinking that these are the same beast as an Authentic  Boar. I don't want you wasting your time and money pursuing some cheap feral "Hog" and thinking you are on a real Boar Hunting Adventure.
If you are a Hunter or would enjoy the thrill and excitement of hunting authentic Boar then read on…
"In the Ancient Halls of the Mountain Kings, Great Feast
of Wild Boar Were Served to Honor All those Who Hunt –
All Hail the Beast Slayer!"
---
You will be Pursing and Slaying Real Boar at Bear Mountain!
Before building the Hunting Estate at Bear Mountain I searched throughout the United States to see if there were any real Boars to Hunt..
"Yes, Everyone Should have a Bucket List – There a Few
Things in Life Worth Doing and Hunting a Beast that Can
Hunt You Back is One of them…"
---
Bottom Line: If you are going to invest your time and resources to hunt Boar, then your best possible value is to come to Bear Mountain and face the Beast on your own terms.
Take a look at these key features that combine to make this a genuine Boar.
* Massive Head and Skull
* Big Hump on his back
* Thick Hide and a Grizzle Plate
* Dense Hard Bones
* Solid Power Muscles
* Small Hindquarter
* Big Powerful Chest
* Razor Sharp "Cutters" and more…
See for yourself what this primitive Beast is all about.
Do the Math – When You are Hunting and Encounter this
Giant Beast in the recess of the Dark Forest Whatever
You Do – Don't Give this 'Bully' Your 'Lunch Money'
---
The Boar is a Prey Animal and is meant to be Hunted, Killed, and Grilled. These Boars are a lean red meat and they are great to eat.
Excellent for Eating, in fact that is why these Old World Heritage Boars were originally brought over to North America. And are still considered the finest table fare in upscale restaurants located in the largest metropolitan areas throughout the United States.
The Real Boar is an intelligent wild animal, that is elusive in the forest. They are very unpredictable and this adds to the excitement during close quarter hunting scenarios.
Imagine the excitement of going forth and Harvesting your own Dinner…
The Boar does not even look like a Hog.
Take a look at the details in the photos and it then becomes obvious at what you are hunting in the dark forest. The pigs you will hunt are not scientifically altered genetic pigs with steroids, antibiotics or other unidentified chemicals added to the Beast's diet.
Rather these boars are in a natural habitat and live within a full breeding population. That means a natural unstressed environment excellent for the Hunting of your Boar.
"Say "Yes" to the Thrill of Adventure –
This is the Hunt of a Life Time"
---
If you are a dedicated Trophy Hunter looking to add a special animal to your collection, or if you are truly seeking the Hunt of a Life Time, then  Come to Bear Mountain and experience hunting the way it was meant to be.(Don't Shortchange yourself with a domesticated hairy half breed pig.)
Come, be my Guest and enjoy the beauty of Majestic Bear Mountain and hunt a Real  Boar, I know you'll be glad you did.
Another Great thing about Bear Mountain – You can hunt these Giants anytime of year that works best for You. Plus you get to choose your favorite weapon.
It does not matter if it is Government Archery Season – You can Hunt with a Magnum Rifle, Muzzle Loader, Hand Gun, the Choice is up to you, not some high Government Official who knows absolutely nothing about Hunting…
"Spring is the Time to Unleash Your Hunting Power
and bring Home the Bacon!
---
Please take the time to review these pictures one more time and then take a look at what I have for you
.****Here is what You will Encounter at Bear Mountain LLC****
Genuine  Boar
The Great Northern Forest
Native Habitat
Traditional Hunting Styles
Your Choice of Weapons
Natural Environment
Five Star Wilderness Lodging
First Class Dinning
Experienced and Trained Guides
Succulent Baby Back Ribs you could just die for…
These features combine together to create an Authentic  Boar Hunting Adventure like none other on the North American Continent and possibly the entire world.
When you complete your Quest you will be transformed into a Dangerous Game Hunter.  Honored and Appreciated by all.
Beast Will Fear You, Women Will Want You, Okay at least your friends will think you are a "Kool Kid" when you tell your survivors story…
I would really enjoy helping you pursue and slay an genuine  Boar.
Experience all the thrills and excitement without all the time and expense incurred in foreign travel to third world nations of Europe
Planning your Hunt is important and I am ready to discuss what it takes to turn this dream into a First Class Reality.
Your friend,
Greg "Moose Man" Johnson
Bear Mountain LLC
324 Co Rd 480
Negaunee, Michigan 49866
Toll Free: (800) 676-9821
Direct:     (906) 475-9676
Email:      BearMountainQuest@Gmail.com
P.S. Pigs are Pigs but Not all Pigs are Equal –
---